April 2022
Shelter from bombs
On the night of 4th/5th May 1942, eighty years ago, East and west Cowes suffered their worst night of bombing in World War II. 40 people were killed that night in East Cowes and 28 in west Cowes. Ten people from Newport also lost their lives that one night.
This year special commemorations, exhibitions and talks will be taking place, and we will focus particularly on the civilians who were working to look after the people.
The Air Raid Precaution squad included the Wardens, First Aid Parties, Ambulance Drivers and attendants, Rescue squads, men who repaired the gas and water supply, telephonists and the Messenger boys on their bicycles.
Men of the National Fire Service, and the Homeguard played an important role. Backing them all were the Women's Voluntary Service, manning Rest Centres in church halls and serving teas from mobile vans.
Preparations for safety included building air raid shelters. Many were built in back gardens, often of brick with solid reinforced concrete roofs, like the one pictured. This one would have had a solid "blast" wall in front of the doorway.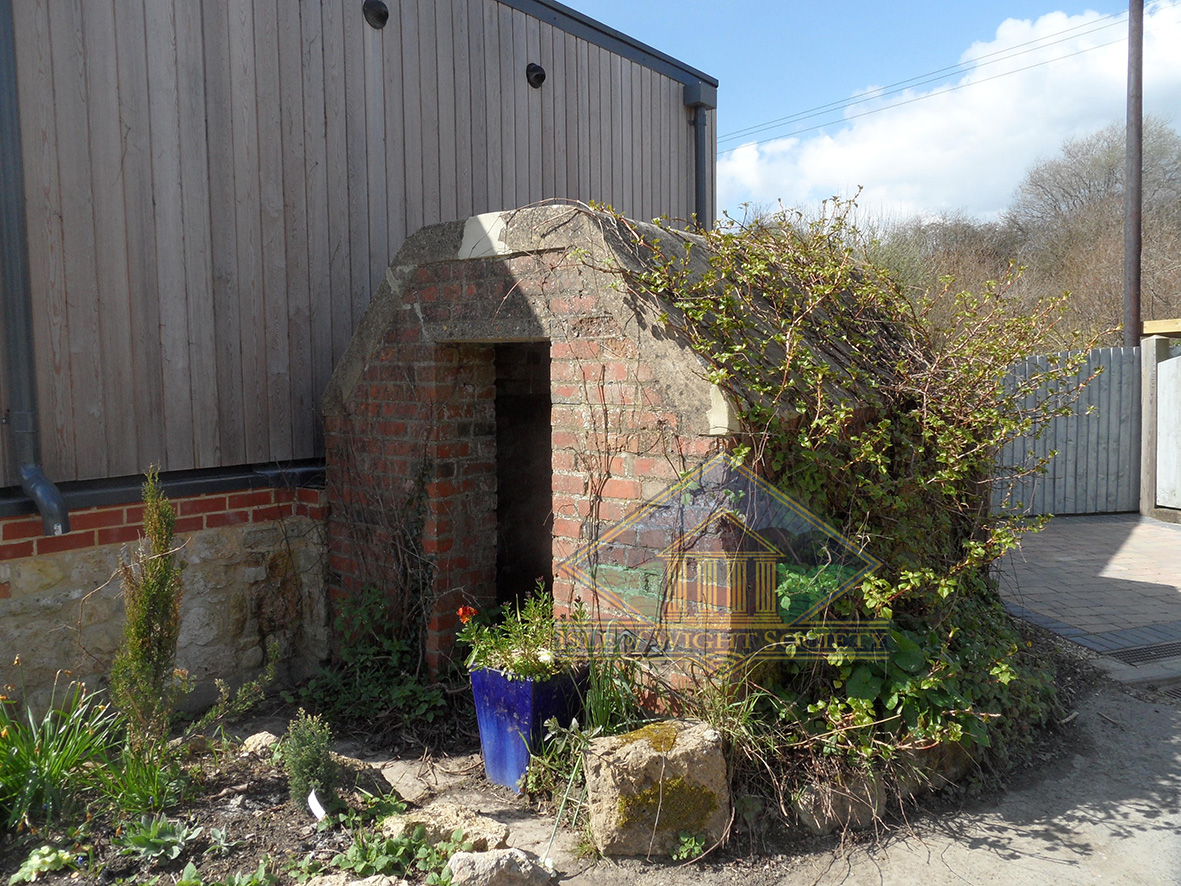 Shelter in Lower Calbourne
Shelter in East Cowes with blast wall and intact push out section
The Council built communal shelters, often with flat roofs. People would be allocated a place in a specific shelter. In the rear wall of the shelter would be a potential escape hatch, where a section of the brick wall had been built with a sandy mortar which could be broken open easily if the doorway was unsafe to use.
Minerva Road pictured in 1942, Communal shelters (Now gone)
People were used to going out to the air raid shelters. Frequently lessons were interrupted at school. Workers in the aircraft works and shipyards would have to rush to the shelters at the last minute. Each worker from a department at Saunders Roe had to use a different shelter from his workmates, so that if one shelter was hit and lives were lost, the department would be able to carry on working.
Despite the strength of the air raid shelters, they were no protection from a direct hit by the huge bombs that were dropped on the town. 20 people were killed in one shelter in East Cowes.
Throughout the raid the messenger boys used their bicycles and battled their way through the debris strewn roads as all phones were out of action. One messenger boy wrote down his memories of that night. He saw refugees trudging out of town, seeking shelter elsewhere.
We have been recording the memories of those who were children eighty years ago, often harrowing tales. A new film has been made for this year, using those memories.
Every year we talk to children in the town about those war time events. In the past, walking around the town has given them some idea of the damage that bombing can do. This year has been different. They have seen the damage and destruction in Ukraine on their televisions, and to see and hear the Island memories has had more meaning for them.
It happened here, in our towns.
Sarah Burdett
[Go Back]