March 2022
The Impact of war on the Island
The Island has been defended, formed sanctuary, and suffered attack over the last thousand years. We would hope to have learnt from these events, and live more peacefully in the future.
Defence of the Island has resulted in numerous iconic buildings.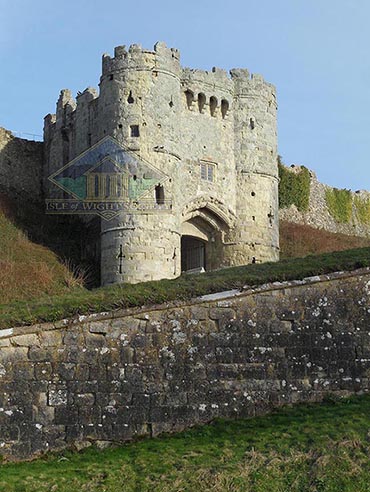 Carisbrooke Castle was constructed in stone by 1136, following a late Saxon defensive enclosure. The first wooden castle was mentioned in the Doomsday book in 1086. The gate way as we know it today was completed in the 1380s. This was the only fortified place on the Isle of Wight at this time, and was attacked by the French in 1377 when they raided the Island. Modern up to date defences including arrow head bastions were added in 1597-1602.
Carisbrooke Castle became an administrative centre when Henry VIII set about creating fortifications at Yarmouth, West and East Cowes. Yarmouth Castle was constructed in 1547. The two castles at the mouth of the Medina were to prevent any further seaborne attack on Newport. The East Cowes castle fell down within seven years. The West Cowes castle is still there, forming the ramparts of The Royal Yacht Squadron.
In 1545 a Blockhouse was built at Sconce Point, guarding the western approaches to the Solent. The remains of Fort Victoria that we see today were constructed between 1852 and 1855 as a result of further fears of a French invasion. Fort Albert, Golden Hill Fort, Culver Fort and Puckpool defences were begun at the same time.
All of these, and numerous other fortifications on the Island, show just how vulnerable the Island was to invasion, being on the English Channel.
Similarly, the Island was a first stopping point for taking casualties from the Boer War, WWI and WWII. Queen Victoria met wounded soldiers convalescing at Frank James Home in East Cowes, and after her death, the Household Wing of Osborne became the Edward VII Convalescent Home for Officers of the Army and Navy. Injured Air Force officers were included, once planes had been invented.
Northwood House became a hospital in WWI, with Voluntary Aid Detachment nurses looking after the men. A military hospital was set up by the Royal Army Medical Service at Osborne Stable Block in WWII.
Safety from air attack in WWII could not be guaranteed, despite the construction of several major gun emplacements and numerous smaller Anti Aircraft gun positions.
214 people were killed as a result of Air Raids on the Island in WWII, 274 seriously injured, and 10,783 buildings seriously damaged. It was sixty years before some of the bombed areas were rebuilt. The major Blitz on Cowes and East Cowes, on the night of 4th/5th May, took place 80 years ago this year. Events are taking place to commemorate this anniversary.
Trying to explain the effects of war on our Island to school children is taking on a new poignancy this spring. We hope that they will never experience first-hand the scenes they are seeing on television.
Sarah Burdett
[Go Back]