June 2020
Island Bricks
Perhaps someone wanting to set up a new craft business on the Island after the Lockdown is over might like to look at Brickmaking.
The amount of iron in the clay and the temperature at which the clay is fired produces bricks of different colours. More iron produces red bricks and early Island bricks were predominantly red, such as the Castle Inn at Newport. Pondcast Farm, Havenstreet, has a variety of early bricks, some of which may be Tudor. In restoring this building the weathered face of each brick has been turned inwards. Simple kilns, or "clamps", gave variations in temperature and therefore the colour of bricks varied. In general the smaller the brick, the older it is.
All these early bricks were hand-made, generally by a family of brick-makers. The clay was thrown into a wooden former, trimmed, then tipped out and left to dry under wooden shelters, "drying hacks". There a few bricks might get a paw imprint from a cat or dog, before the bricks were fired.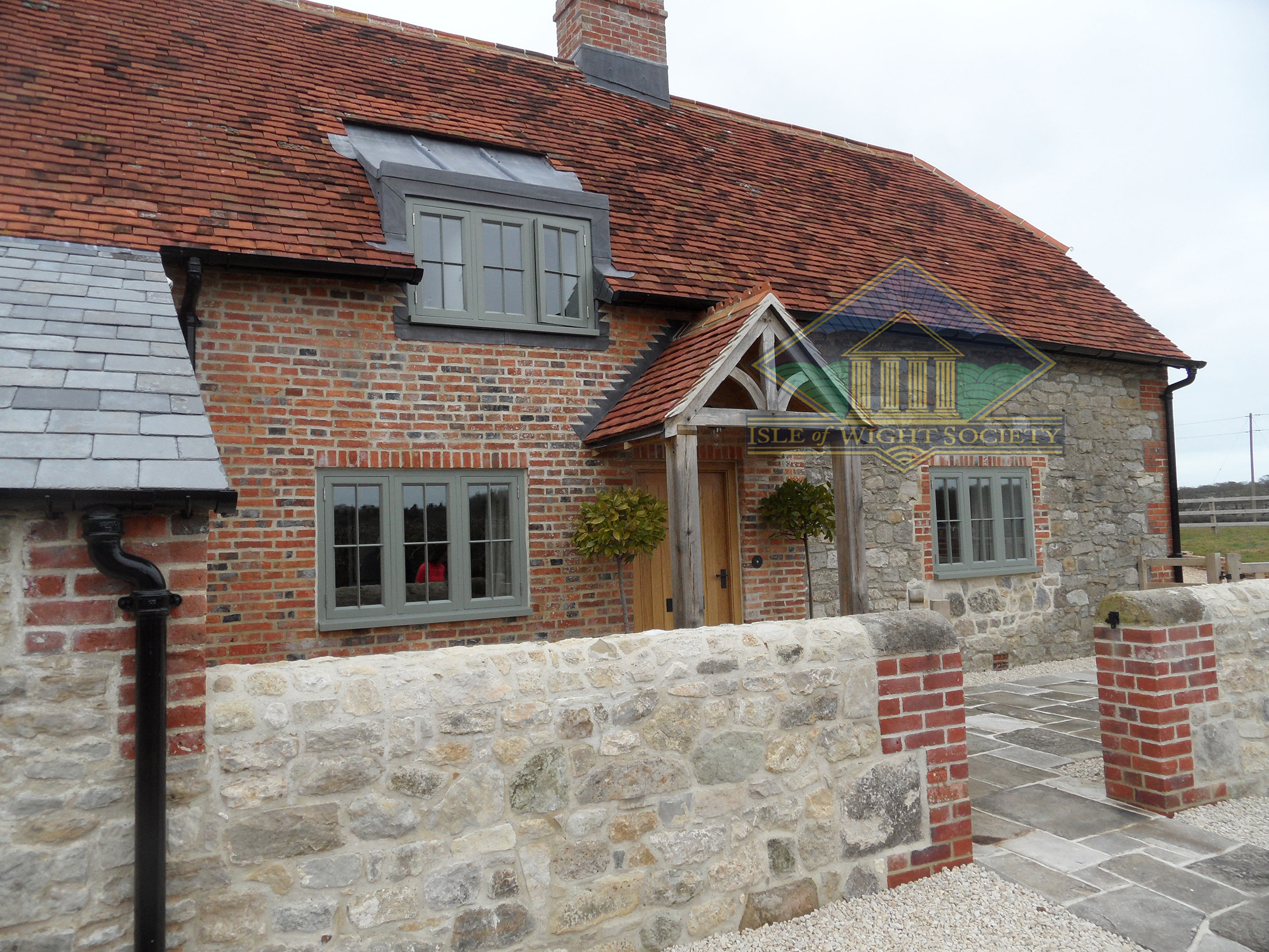 Tudor bricks at Pondcast Farm.

In the 1700s East Cowes was the Customs port for the rice being imported into Europe. Brick built secure warehouses were constructed there for the merchants who were storing bonded goods imported from the British colonies in America.
Before 1800, if you had enough money and wanted to build your house of bricks instead of the normal wood, you would first build a brick kiln and have you own bricks made on site, often using your own clay. At Osborne in 1774 this is what Robert Blachford did, although he imported some clay "marl" from Fareham.
From 1800 the industry expanded and brick-makers started setting up their kilns near expanding towns, wherever there was a good seam of clay. There were several brickyards around Ryde and Newport, gradually engulfed as the towns expanded. Other brickworks were set up where there was good water transport, such as Newtown or on the Medina. Edmund Pritchett set up works with a quay at Gurnard, and another on the Medina to supply bricks to build the fort at Freshwater.
Buff or yellow bricks are produced from clay with a high calcium content, or by adding chalk when the clay was being mixed or "pugged". These paler bricks became popular in the 1800s, and those produced at Ningwood were called "white" bricks. These were shipped from Yarmouth and used in building houses in Brighton.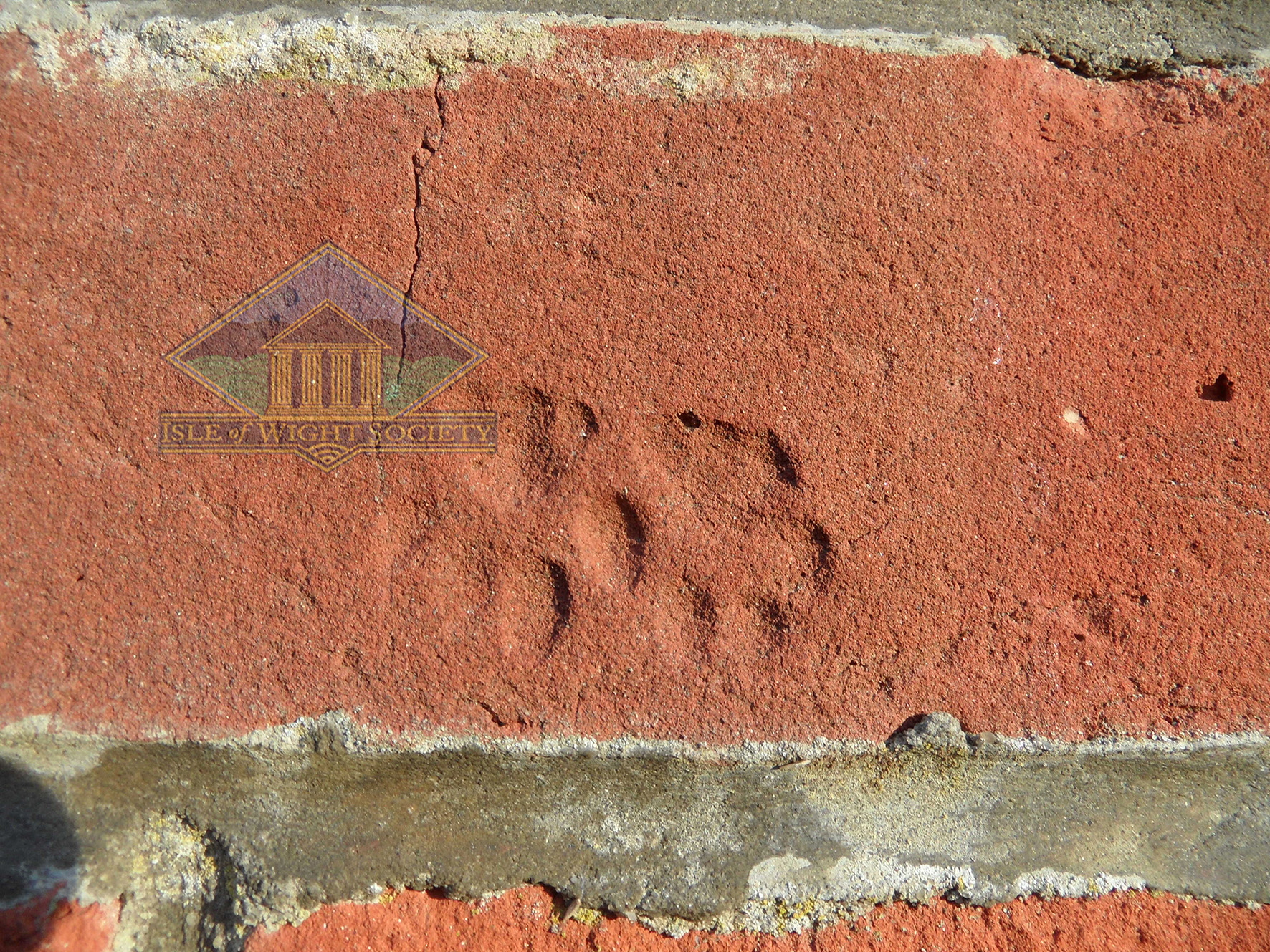 Paw prints in a brick from Queen Victoria's brickyard.

Over 100 brickyards have been identified on the Island. Many closed down in 1914 as the men went to war. For more information look at the Isle of Wight History website
Rookley had the last working brickyard on the Island. That shut down in 1974 when improved transport and increased mechanisation made Island brickmaking uneconomic. All new bricks used on the Island today have travelled many miles by road, rail and sea.
Could the Island produce hand-made bricks again?
Sarah Burdett
[Go Back]