April 2020
Can I have it delivered, please?
At the present time much use is being made of shopping deliveries, not a new innovation. However it is only over the last forty years we have become accustomed to getting in our cars and driving to a supermarket for a wide variety of goods.
100 years ago everybody shopped locally, in their own town. A town centre could supply everything that was required, and what you did not know about, you did not want. Necessities were just that.
Even in a town of two or three thousand people, there would be two or three separate smaller shopping centres, within easy walking distance for the housewife. Before the days of refrigerators the housewife shopped every day for her perishable goods. She could never afford to bulk buy, living from week to week as the pay packet came in.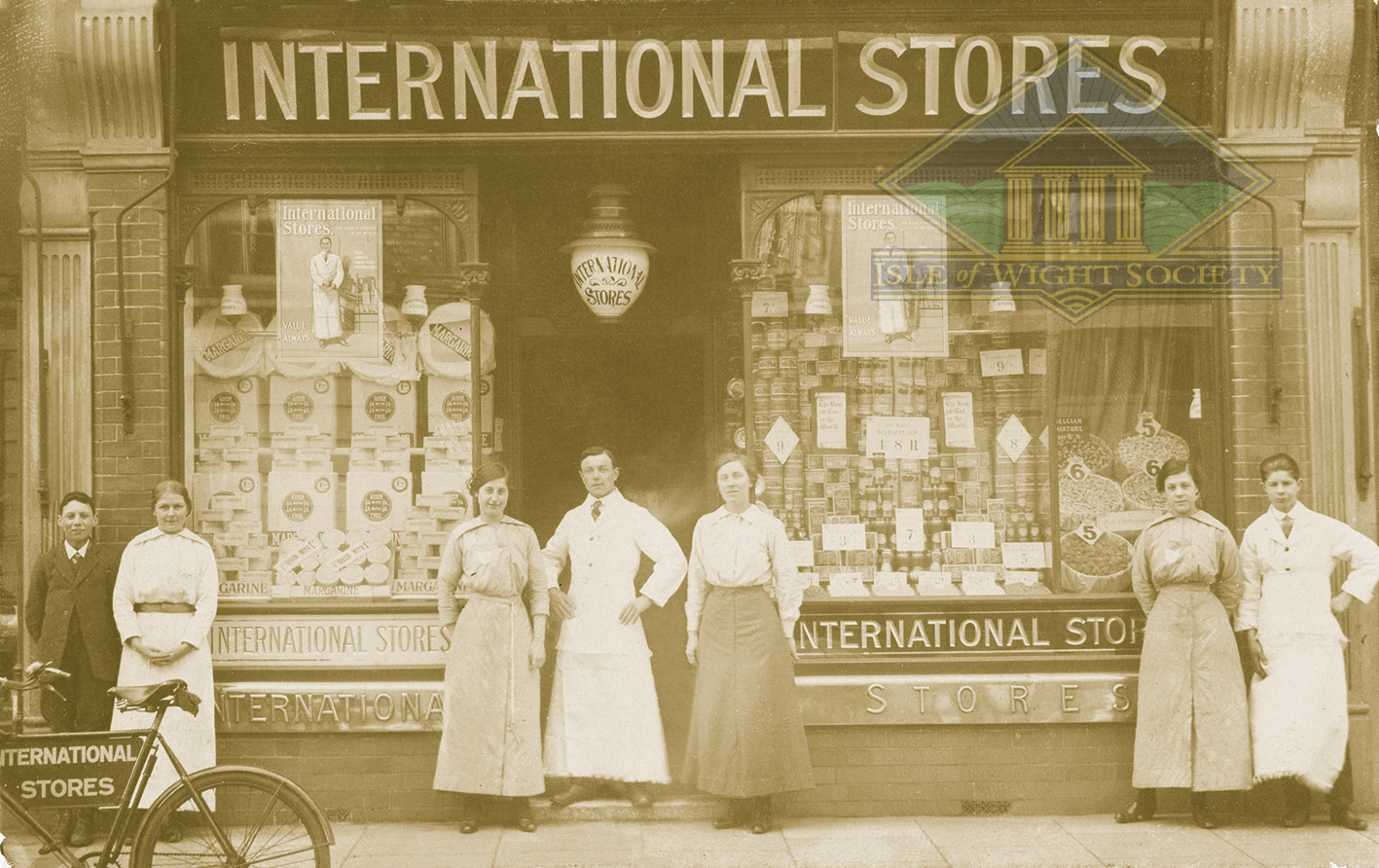 International Stores East Cowes, now the East Cowes Heritage Centre.
To save her having to carry the shopping home, many housewives had an order book to write in for their local grocer, greengrocer and butcher. The food requirements were delivered by either a grocery boy on the shop bicycle, or a delivery van. At larger households the shop boy would collect the order book and return later in the day with the food.
Young Bill Anderson started work as a delivery boy at International Stores in East Cowes in 1921. There was an Act of Parliament (Shops) notice hanging on the wall, and he was very pleased to see that at his age, 14, he was not allowed to work more than 96 hours each week!
As the use of the telephone slowly increased, shops would take orders by 'phone. The local shopkeepers embraced this new technology. The horse-driven delivery van was slowly replaced by the motorised version.
Mainland names such as International and the Co-Op Stores had arrived early in the 1900s, and opened premises all over the Island. Some Island shopkeepers expanded to have shops in several Island towns. At Wrays the grocers the hams were cooked at each shop, and their bakery was at Newport.
Social change in the late 1960s led to more housewives being out at work, with refrigerators and then freezers allowing them to change their shopping habits. Car ownership boosted the "once a week" shop as self-service chain stores arrived in each town centre.
1980 saw the first out of town supermarket on the Island, Ryde Tescos. Local stores such as Wrays closed shortly afterwards, unable to compete, especially when a free bus was provided by Tescos to collect non-car owning housewives from other towns. Customers now expect to see every sort of fruit and vegetable on the shelves all through the year. Today local Farm Shops provide "seasonal" Island produce.
Each additional out of town store has reduced the local town centre footfall and small local corner shops struggle to survive.
When the Corona Virus pandemic is over, and online deliveries no longer become a necessity for many, what will our shopping habits be?
[Go Back]