March 2020
Island Roads
"It was just like driving across a ploughed field!" That comment was heard forty years ago from a traveller from Ventnor as he approached East Cowes. It was hardly surprising then as so many roads were just cart tracks with a thin layer of tarmac added. Road improvements have made a difference.
People today think of roads as always having been covered in tarmac. But this was not so in 1920..
The Isle of Wight Highways Commission was established in 1813 by an Act of Parliament. It was their job to establish which tracks were Public Rights of Way. They also had to obtain payment for the upkeep of the roads. The landowners on either side of the road were responsible, according to the length of their frontage.
Stones and gravel were collected from as near the roads as possible to help make a stronger surface. Often old maps mark gravel pits near to main roads. Many of these have been filled in, but sometimes they remain as a dished out field. This winter they filled rapidly with rainwater.
The roads had ditches dug beside them to carry away surface water. These ditches were carefully and regularly maintained. Without them the dirt roads would have become a quagmire. Today, many of the Island roads have been widened. The ditches have been covered in, sometimes leading to streams pouring across the roads. Palmers Brook Road in Wootton is one example - where run off from the fields rushes across the road to join the brook on its way to the Solent.
Gravel roads were very dusty in dry summer weather. In 1909 Princess Beatrice asked East Town Council to water the road more regularly outside her home, Osborne Cottage. The Council experimented with using sea water, but that did not do the town water cart much good!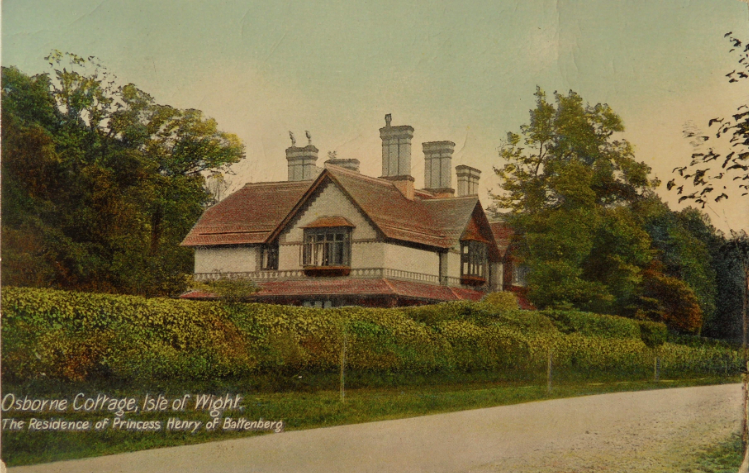 Osborne Cottage, Home of Princess Beatrice
Yarmouth Council was the first to experiment with covering roads with tar from the gas works and a layer of grit, in 1907. However it was the 1920s and 1930s before tarmac covered many Island roads, appreciated by both motorist and cyclist.
The 1940s saw much war damage, and then rebuilding. Reinforced concrete for roads was the latest idea. There was a readily available workforce in 1945, Prisoners of War. The Island had several camps for these men, both German and Italian. Their work was good, and many roads built by them are still sound today. Most have been covered with tarmac, now sometimes peeling off to reveal the concrete beneath. The PoW camps were still here in 1947, two years after VE Day, often the men having no homes to return to. Some stayed on the Island, marrying Island girls.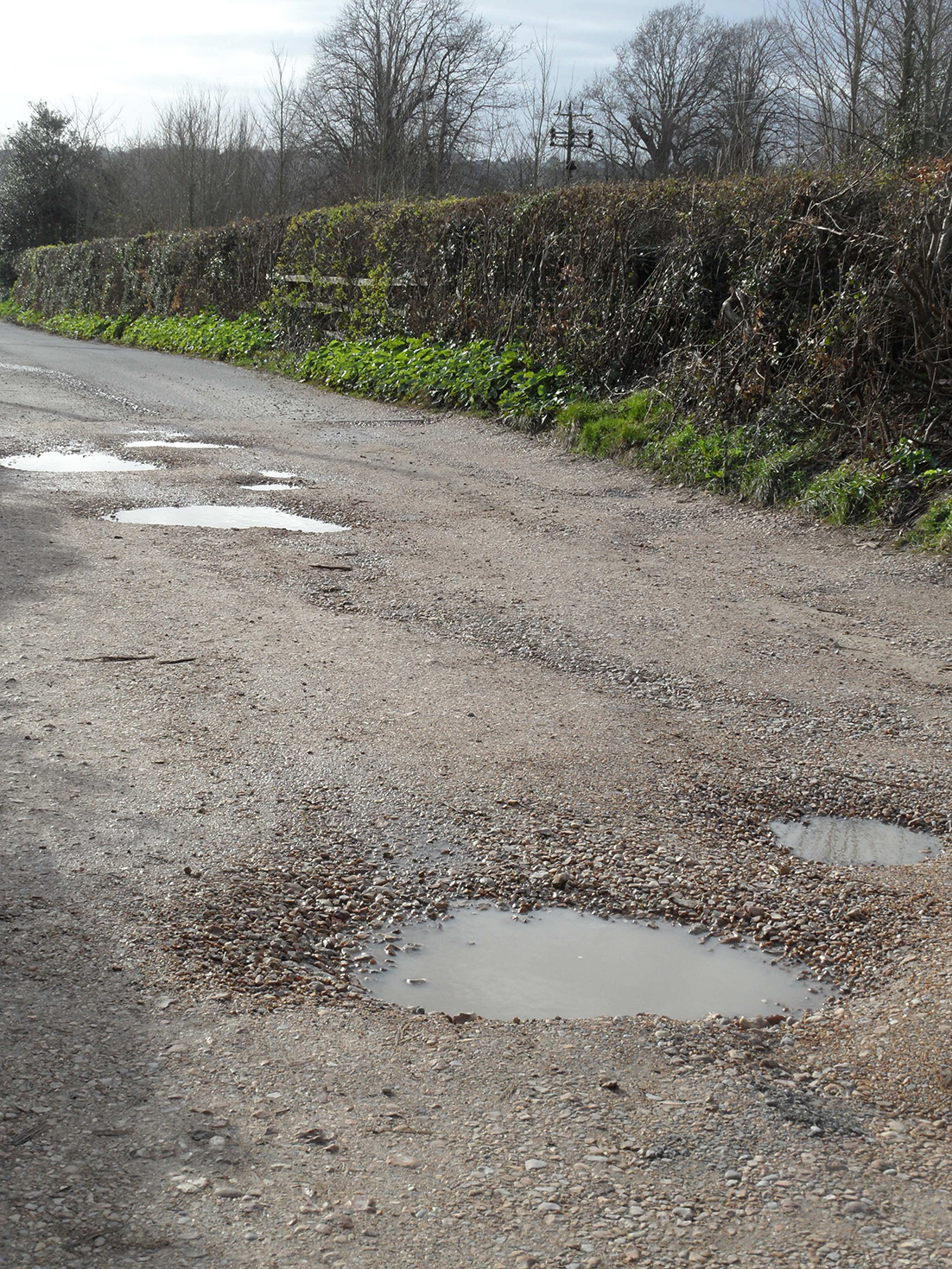 Gravel track exposed with wear
The demand on our roads today is tremendous. One small pothole can develop into a crater overnight in rain and heavy traffic. Regular commuters weave their way along the roads, noting yellow painted lines appearing around some holes.
Repairs are a never ending task on some of our old cart tracks!
Sarah Burdett
[Go Back]