December 2019
Electricity on the Island
It was good to see many Christmas lights last month, but how many of them were energy efficient?
Over the last twenty years solar power has greatly improved so that Trinity House lighthouses can now operate efficiently using LED arrays and batteries.
In 1892 St Catherine's lighthouse was the first place on the Island to be illuminated by the new-fangled electricity. The original oil lamp became redundant when a dynamo system was installed creating electricity.
The same year electric lighting was installed in the Bath Road area of Cowes for trials, but it was not successful.
The next innovation on the Island was an electricity generation station for Ventnor in 1899. The building still exists, converted to accommodation. This had three coal fired steam engines each driving a 90 kW generator. The system became popular and extra cables were laid out to St.Lawrence and Bonchurch. Electric light at the flick of a switch had arrived, for just a few people.
Newport Power station was started in 1901. Just part of the decorative brickwork remains, a gaunt monument to its industrial history, and on the Local Listing for the Island. It was built next to the railway for ease of delivery of the coal to power the Edmundson generators. Electric cables were laid under the main roads. Cowes asked to be supplied, so a 2,500v direct current (dc) cable circuit was laid alongside the railway track north from Newport. A cable led under the Medina to East Cowes and up to Osborne.
This massive voltage had to be reduced in rotary converters down to 240 volts to supply houses, so substations were built, several of which still exist today. The 2,500 volt dc cable was one of the highest in commission over the whole of Britain, but eventually alternating current (ac) was introduced as being more efficient.
Other towns followed with their own generating plants, Sandown and Ryde in 1902. Industrial use increased during WWI, not only for lighting but also for tools. Domestic use increased to an extent that by 1924 the Island demand exceeded supply if any of the generators was out of action.
So in 1928 one central power station was built to supply the whole Island with electricity. This was at East Cowes, beside the Medina, where coal could be supplied directly by ship. Cables led to all parts of the Island, generally in verges, but overhead in rural areas.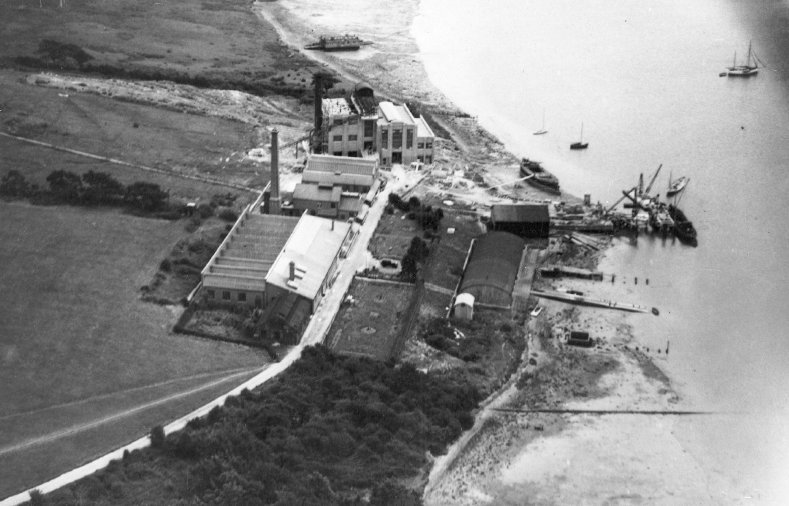 Construction of the Power station beyond the Naval College engineering works, Kingston, East Cowes.
Increasing industrial demand in 1943 led to the first power lines under the Solent from the mainland. By 1949 there were 25,000 electricity customers on the Island, an increase of 9,000 since 1939.
In 1982 the new Gas Turbine power station was commissioned at East Cowes, and is still in use today when needed, feeding into the National Grid. Our Solar farms and domestic arrays also feed into the Grid system.
We all take electricity for granted, but should we be using so much?
How can habits of a life time be changed?
Sarah Burdett
[Go Back]