September 2019
Trails around the Island
What an enjoyable Island we live on, especially when the sun is shining. That is when many people think of getting out and about, and exploring. The autumn colours have started in the countryside.
The Isle of Wight was the first county in England to get all its footpaths numbered and suitably signposted. The County Council also provided an excellent set of long distance Trails way back in the 1970s. These still exist. The Bembridge Trail and the Tennyson Trail together take you from East to West, 25 miles. The Coastal Trail is 67 miles, which can be walked in different sections. Then there are six more inland trails to enjoy. These trails were given hardwearing oak signage boards.
People have worked hard to maintain these paths, and still do. Many are part of the PFI contract to maintain Island roads and paths. We have to thank those volunteers also take a helping hand as well, especially the Ramblers "Donate a Gate" scheme which make the paths more accessible.
Many more trails have opened up since the 1970s, and the use of the old railway lines has provided not only flat walking routes but cycle trails all across the Island, encouraging more tourists to visit. Bridle ways are included, and facilities have expanded to support these visitors.
Many Urban Trails have been marked out and written about in recent years, so now there are interesting features all over the Island. Many of these have "people" as their focal point. Probably the latest of these is the Victoria Trail, which walks you from the East Cowes Red Funnel terminal to Osborne House. This lists 24 of the famous people (and an elephant!) who visited the Queen while she was living at Osborne. If you go on line you can obtain the information about each of the plaques set into the pavement as you pass them, alternatively the trail booklet is available from the East Cowes Heritage Centre. Other towns have developed "App" friendly trails, such as the one at Ryde developed by the Social History Group.
Wootton has a series of five trails which take in both countryside and village. They received help from the Heritage Lottery Fund and have produced excellent leaflets to suit all types of walkers, with fascinating historical information. Details can be found around the village and from the Wootton Bridge information centre in Brannon Way.
The three Estuary Trails and eight HisTree Trails were produced by the IW Council in their richer days with other partnerships. They have good detail about the history and wildlife combined that you can see along the trails.
Island trails are available from Tourist Information Centres and Points and will help you to find out more about our Island, even if you have lived here for years. Happy exploring!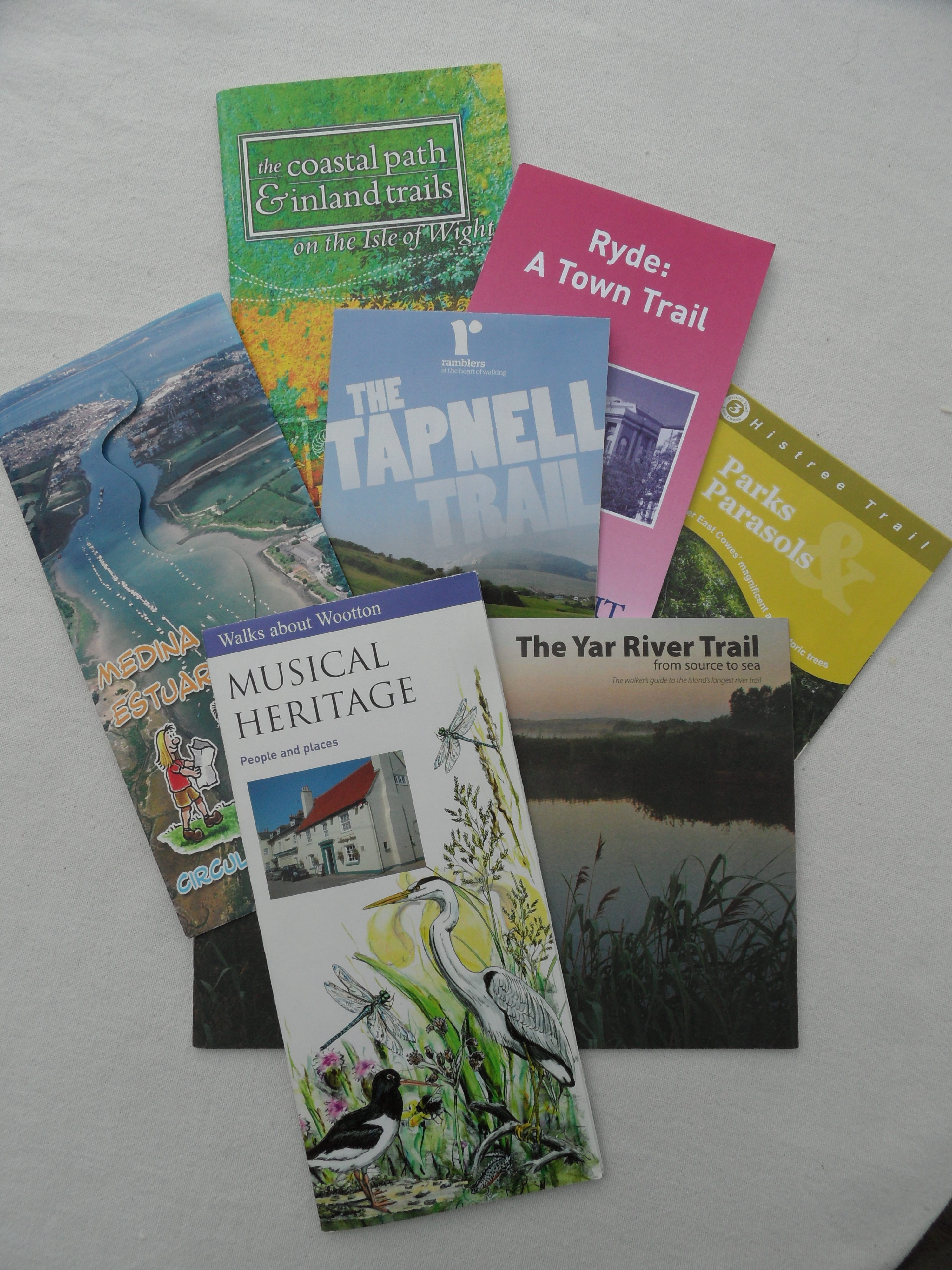 [Go Back]