Gates
Helena Hewston
Gate – a barrier or an entrance, an Anglo Saxon word in use today without modification. Also applied to sluices for watercourses, for footfall count at an event, the takings at the event, for the mechanism in gear changing and for the pouring of metal into a mould.
It is not often a gate leads to nowhere but the Knighton Gorges is notable as part of Isle of Wight history of personalities.
Carisbrooke Castle gates definitely have presence as one enters the stronghold. These were moved to accommodate vehicles on a visit by Queen Elizabeth II. So too do the Queen's Gate at Osborne House but these are not for public use and were installed for Queen Victoria.
Appledurcombe has an impressive stone Freemantle Gate on the south of the estate, which is not much used for entrance now on the north of the grounds.
Church Litten in Newport has a 16th century stone gateway to the old town cemetery which is worth a second look. People were smaller in stature so the proportions reflect the architecture of that time. Some village churches have gateways where a coffin could be placed, as at Mottistone where it evident at the graveyard entrance without the wooden canopy.
Freshwater has a Gate Lane leading from Freshwater Bay to the Faringford Estate and there is a Gatehouse Lane at Ashey connecting a Gatehouse to the Steam Railway Station where Queen Victoria alighted.
Level Crossing Gates are often replaced by automated barriers and where the railway line once ran the occasional painted wooden gate is found. In Wootton and at Stickworth Hall the road crossing has been made to be in keeping with the age of steam.
The Ramblers have a Donate a Gate scheme which has meant the upgrade of many field accesses. One style that makes interesting access is the kissing gate – not designed for lovers out for a stroll - but to ensure livestock beyond the gate could not leave the enclosure.
A side gate to a dwelling comes in many shapes and sizes and is usually solid. However, there has been a revival in ironwork and ornamentation and the forges on the Island can produce bespoke pieces of gates and fences.
Ryde, Cowes East and West, and Yarmouth are referred to as the Gate Ways to the Island and form part of the regeneration strategies that are currently being discussed.
A gate is part of the language of the environment and says much if open or closed, or with one side open. What is is made of tells of fashion and technology. Its size and speaks of status and intent. its condition communicates history and change.
Our Island's richness in its variety of environment and history can be appreciated by looking at the gates and their furniture, their position and use and it is difficult to think of another word to replace this Anglo Saxon one that would still be in use in another millennia.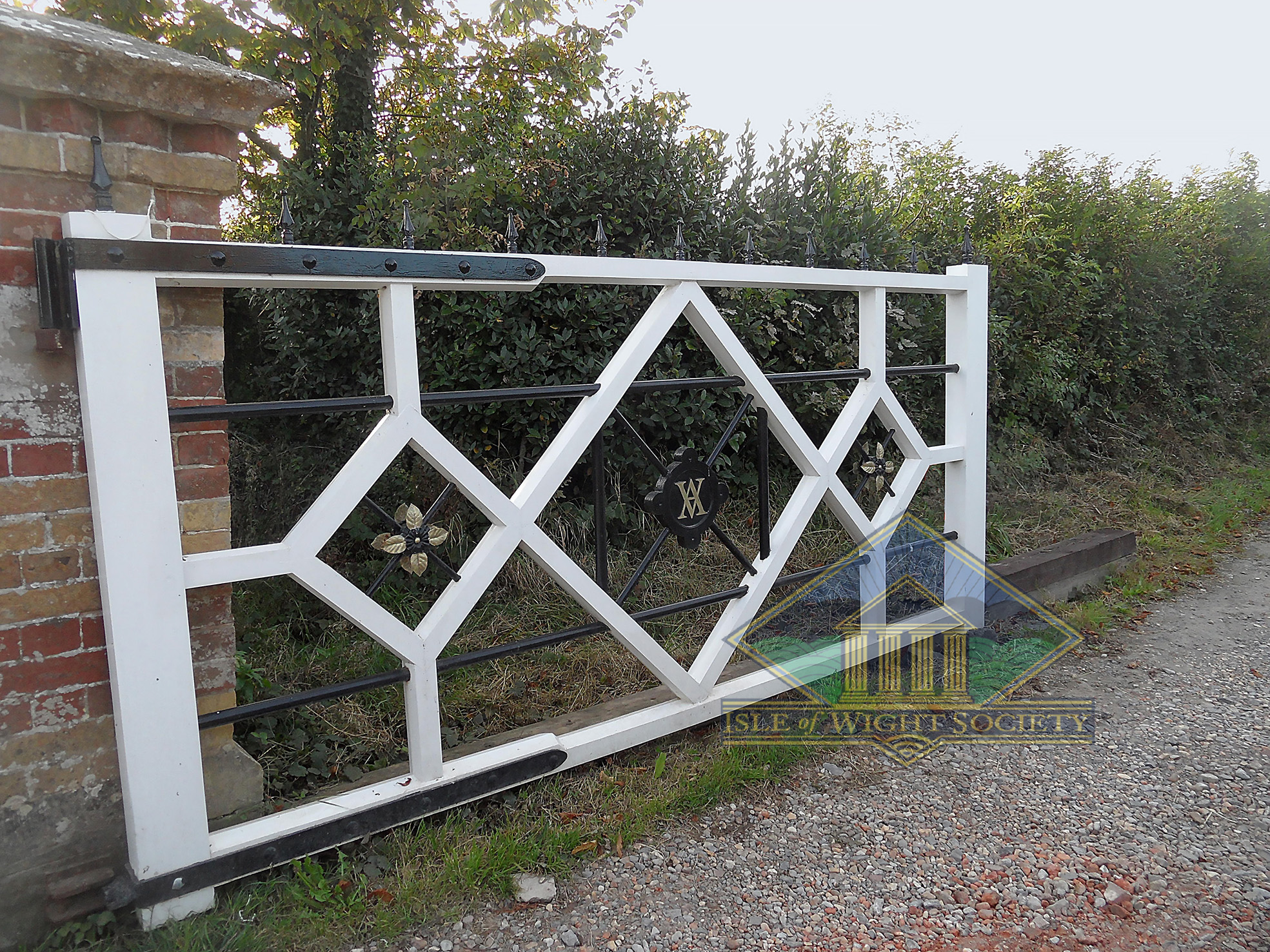 Gate to Alverstone Lodge incorporating the V and A cypher for Victoria and Albert.
[Go Back]